A Virgin Galactic rocket plane on Friday soared to the edge of space with a test passenger for the first time, nudging British billionaire Richard Branson's company closer to its goal of suborbital flights for space tourists.
Virgin Galactic's chief astronaut instructor Beth Moses, who will train future space tourists, joined pilots onboard SpaceShipTwo VSS Unity to evaluate the customer experience and cabin.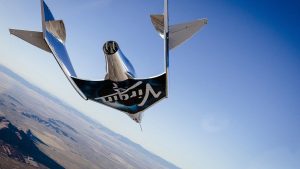 "This is what we're here to do, we're here to fly people in the back of our spaceship, that's what it's all about," said pilot David Mackay, who is now the first Scottish-born astronaut. "So for me it was an important step toward that operation."
The WhiteKnightTwo carrier airplane took off soon after 8 a.m. local time (11 a.m. ET) from the Mojave Air and Space Port in California. It released the SpaceShipTwo passenger craft at an altitude of about 44,000 feet and then the spaceship was catapulted to 55 miles above Earth.