It's the most powerful street-legal car ever to come out of Italy. And when your competitors include Ferrari and Lamborghini, that's some badge of honour.
It may even be the most powerful road car ever, although when you're dealing with hypercars (the noun supercar is no longer sufficient) it's a fine margin between first, second and third.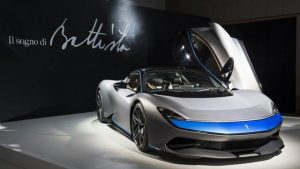 But being number one is not the most important thing. Nor that it costs £2m. What's really special about the Pininfarina Battista, recently unveiled at the Geneva Motor Show, is this: it's all-electric.
So, here are some stats. Maker Automobili Pininfarina claims its Battista does 0-62mph in less than two seconds, 186mph in less than 12 seconds, has a top speed of more than 250mph, and does 280 miles on one charge.
Its brake horse power (bhp) is equivalent to 1,900, about twice that of a Formula 1 car (a decent-sized Ford Fiesta, Britain's best-selling car, has a bhp of between about 84 and 138).