Democrats are crafting a request to send to the IRS and say they will "take all necessary steps" to obtain the president's returns.
The top tax-writing committee in the House is readying a request for years of President Donald Trump's personal tax returns that is expected to land at the Internal Revenue Service as early as the next few weeks, according to congressional aides involved in the process. And Democrats are prepared to "take all necessary steps," including litigation, in order to obtain them.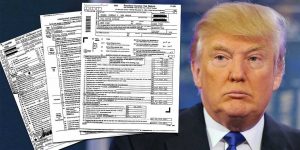 Ways and Means Committee Chairman Richard Neal, D-Mass., has asked the committee's attorneys to prepare the request, according to two aides involved in the process. Neal has also contacted the chairs of several other House investigative committees, including Oversight and Government Reform, Financial Services, Intelligence and Judiciary, asking them to provide detailed arguments for why they need the president's tax returns to conduct their probes.