US President Donald Trump's use of Twitter is hurting America's standing in the world, say the majority of voters in a new poll.
Nearly half of voters in the Politico/Morning Consult poll released Wednesday also linked Trump's incessant tweeting to possible failure in the 2020 campaign.
….Actually, throughout my life, my two greatest assets have been mental stability and being, like, really smart. Crooked Hillary Clinton also played these cards very hard and, as everyone knows, went down in flames. I went from VERY successful businessman, to top T.V. Star…..

— Donald J. Trump (@realDonaldTrump) January 6, 2018
Forty-six percent of voters taking part in the new poll believed that Trump would harm his chances of being reelected in the 2020 presidential election.
Only 22 percent said his use of Twitter with 59.9 million followers is helpful while 17 percent said it would not influence the 2020 reelection bid at all.
Fifty-four percent said it would hurt America's standing in the world and 55 percent said it would harm his own presidency.
Trump uses Twitter too much, according to seven in 10 voters, while 14 percent said he uses it the right amount and one percent wanted to see the president more often on Twitter.
"President Trump's breakneck use of Twitter is increasingly viewed by his base in a favorable light despite the divisiveness of some of his tweets," said Tyler Sinclair, Morning Consult's vice president. "Fifty-one percent of Republican voters say President Trump uses Twitter too much, compared with 58 percent who said the same in May 2018. Among the same group, 38 percent say his use of the social network will help his reelection efforts, while only 25 percent say it will hurt those efforts."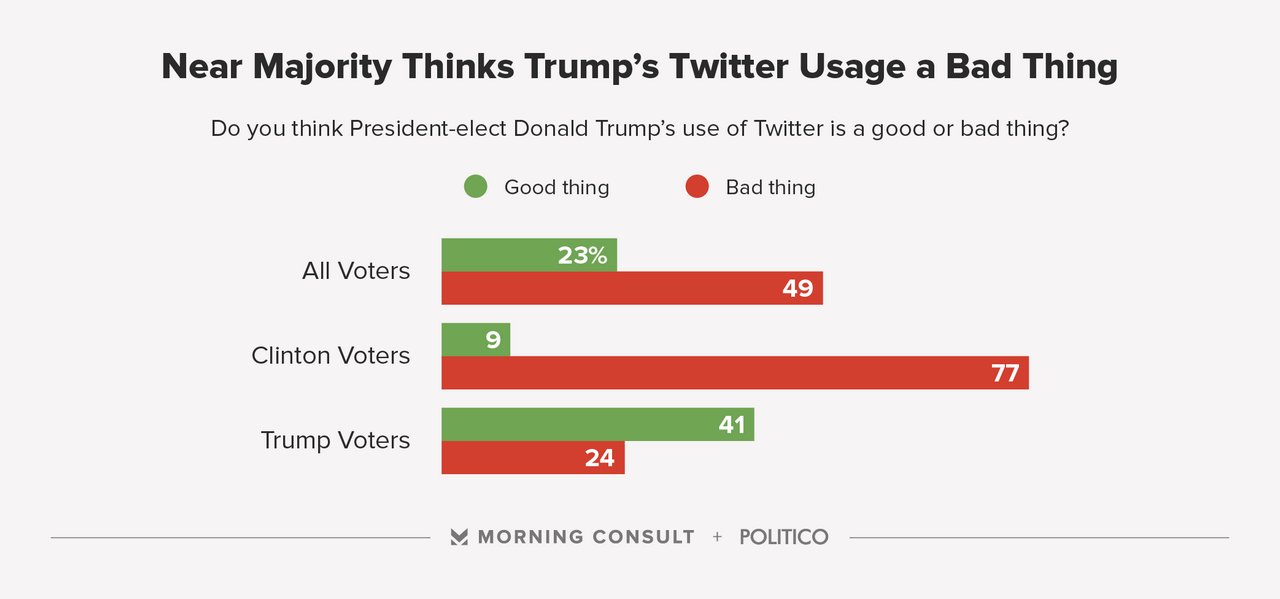 The American online news and social networking service recently removed a video promoting Trump for the 2020 presidential election after it is shared by him.
Featuring music from the movie "The Dark Knight," the clip was disabled in "response to a report by the copyright owner," Twitter said in late April.
It also showed some of Trump's opponents, including former President Barak Obama, former President Bill Clinton, and his wife, former Secretary of State Hillary Clinton, who lost the 2016 presidential election to Trump.
Trump immediately claimed credit for the success of the platform after Twitter said on April 23 that profits soared in the past quarter.