Iranian Foreign Minister Mohammad Javad Zarif dismisses the likelihood of a war between Iran and the United States but says certain "accidents" might ignite a military confrontation.
In a recent interview with the British online newspaper Independent at Iran's Permanent Mission to the United Nations in New York, Zarif said although he did not think a war between Iran and the US was imminent, "accidents can happen" that then spiral into a "military conflict."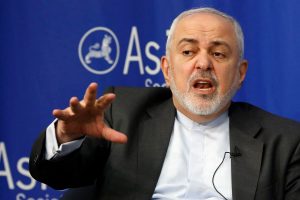 In response to a question about the nature of such accidents, Zarif gave the example of a recent move by US President Donald Trump to put Iran's Islamic Revolution Guards Corps (IRGC) on its blacklist of foreign "terrorist" organizations.
A lack of "vital communication" between the IRGC forces and ships going through the Persian Gulf and the Strait of Hormuz, a strategic waterway where most of the world's oil exporters pass through, can easily lead to conflict.
The United States in April officially registered the IRGC as a "foreign terrorist organization," according to a notice published on the website of the US Federal Register.
Iran's Supreme National Security Council (SNSC) slammed the US government as "supporter of terrorism," designating American forces in West Asia, known as the United States Central Command (CENTCOM), as a "terrorist organization."