A group of Iraqi women and children from the Izadi minority, who were freed earlier this week after five years of captivity at the hands of the ISIL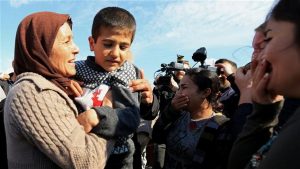 Takfiri terrorist group in neighboring Syria, have been reunited with their families in Iraq.
On March 12, fighters from the Iraqi pro-government Popular Mobilization Units (PMU) reunited a dozen Izadi children with their families.
The media bureau of the volunteer forces – better known by the Arabic name Hashd al-Sha'abi –announced in a statement that the children were rescued after a delicate intelligence operation.
The statement added the children had been kidnapped by Daesh from Sinjar back in June 2014.
Four other children from the city of Tal Afar, located 63 kilometers west of Mosul, were also with the Izadis rescued from Daesh captivity.