Six people are dead in Oklahoma after flooding, severe storms and tornadoes impacted the state over several days.
A mobile home park in El Reno, about 29 miles west of Oklahoma City, was "devastated," Mayor Matt White said.
"It's a lot of devastation here, it's leveled, it's just devastated," White said in a phone interview with CNN, referring to the powerful EF-3 tornado that hit the city. "It's tore all to pieces, it was terrible."
Two people were killed in El Reno and two people were killed in Mayes County, according to a tally Sunday from the state medical examiner's office. A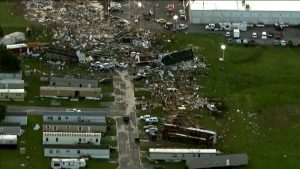 53-year-old woman also died in Payne County and a 58-year-old man died in Stephens County, according to officials.In El Reno, officials were going door to door to find victims and assess the damage after the tornado touched down in the city late Saturday. A search and rescue operation is still underway, White told reporters Sunday morning. El Reno has a population of about 19,000.