The Iraqi Intelligence Service (IIS) announced on Saturday the arrest of a member of ISIS responsible for recruiting and training individuals referred to as "lone wolves".
In a statement today, the agency, in coordination with the Counter-Terrorism Service, successfully apprehended ISIS member responsible for recruiting and training "lone wolves", as well as manufacturing explosives and suicide belts.
The statement clarified that the operation was based on precise intelligence and field surveillance, conducted within the framework of proactive efforts to ensure the security of the Arbaeen pilgrimage.
Furthermore, the Counter-Terrorism Service affirmed that it "arrested the terrorist based on accurate information from the IIS. He was responsible for disseminating ISIS's (legitimate) fatwas, inciting people to join the ranks of ISIS inside and outside Iraq, as well as spreading information and publications related to the organization."
According to the statement, the accused was involved in "disseminating instructions on how to prepare and manufacture explosives, suicide belts, improvised explosive devices, assassination methods, lightning attacks, and the production of medium-sized weapons (launchers) using local materials. He also promoted news, releases, and statements related to ISIS and incited migration to the organization's controlled areas in Africa."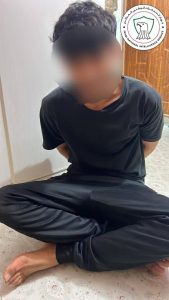 ISIS Lone Wolves, often referred to simply as "lone wolves," are individuals who carry out acts of terrorism or violence in support of the Islamic State of Iraq and Syria (ISIS) without direct coordination or communication with the central leadership of the organization. These individuals are typically radicalized and inspired by the ideology of ISIS but operate independently, making them difficult for security agencies to detect and prevent.
Lone wolves may carry out various forms of violence, including terrorist attacks, shootings, stabbings, or vehicle ramming, with the intent of furthering ISIS's goals and spreading fear. They are often self-radicalized through online propaganda, social media, or extremist literature and may act alone or in small, loosely connected groups.
The term "lone wolf" is used to describe individuals who act independently, without direct orders or support from a larger terrorist organization. They pose unique challenges for counterterrorism efforts because they may have fewer links to known extremist networks, making them harder to track and prevent.