India's main opposition Congress party has offered to roll out a means-tested universal basic income if it wins the country's fast-approaching general election.
Congress's leader Rahul Gandhi described the scheme as "the first of its kind in the world". "We have decided that every poor person in India would be guaranteed a minimum income after the Congress forms the government in 2019," he said, addressing a farmers' rally in the central state of Chhattisgarh.
"No one will go hungry in India, no one will remain poor," he said. The announcement was light on details, but Mr. Gandhi referred to the scheme as a "Minimum Income Guarantee for every poor person", and that "the poor will get a minimum income directly into their bank".
Congress's announcement came on Monday, days before Narendra Modi's ruling Bharatiya Janata Party (BJP) was set to issue its last fiscal budget before a national election that must take place by the end of May.
The BJP is itself heavily predicted to issue a string of expensive, populist policies aimed at winning votes. They are expected to include relief measures for farmers, whose mass protests badly dented Mr. Modi's air of invincibility before a set of poor state election results late last year.
There have been rumbling rumors that the BJP may even have been considering its own scheme for a form of universal basic income. Nonetheless, the ruling party was quick to dismiss Congress's announcement as unrealistic.
"Where will the money come from? He's promising the moon to fool the people," said Gopal Krishna Agarwal, a party spokesman specializing on economic issues.
The president of the third-largest party, Mayawati Prabhu Das, most commonly referred to as Mayawati, urged voters not to believe the sweeping promises of either major party.
She compared Mr. Gandhi's announcement to that of Mr. Modi before he swept to victory in 2014 when he promised to deliver Rs 1.5m (£16,000) into the bank account of every citizen by clawing back black money held in foreign bank accounts.
BJP officials have since argued that this was done indirectly through policies to boost the economy and create jobs, though Mr. Modi's efforts to clamp down on the black economy have provided little to no return.
"Is this [Congress's] promise another cruel joke?" Mayawati asked, saying people wanted a party that worked "rather than making tall claims and promises".
A government economic adviser, quoted anonymously by the Reuters news agency, admitted Mr. Gandhi's promise showed an element of "competitive populism" among politicians. Economists are concerned that whoever wins in the spring, India may breach goals to rein in its fiscal deficit.
Former Congress finance minister P Chidambaram insisted the party could find the resources to implement the promise. "The poor of India have the first charge on the resources of the country," he said.
Congress said it could divert funds from an expensive programme of subsidies which, it argued, failed to reach the right people. India's 2018/19 food subsidy bill alone was estimated at 1.7 trillion rupees, roughly 7 percent of total federal spending.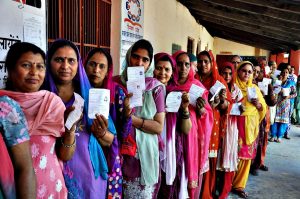 The idea of providing a universal basic income is gaining traction in smaller, wealthier countries such as Finland and France. But while India has had rapid economic growth, it is still home to one in three of the world's extreme poor.
Luke Martinelli, a research associate at the Institute for Policy Research at Bath University, told Reuters the Congress move was significant, although not quite offering universal coverage.
"A means-tested guaranteed income for the poorest is very different from a universal basic income per se," he said. "Having said that, obviously, in terms of income security there are some significant overlaps and this will be treated with enthusiasm, I'm sure, by the basic income community."